Tanker Seizures and the Threat to the Global Economy from Resurgent Imperialism
By Craig Murray
July 30, 2019 "Information Clearing House" - The British seizure of the Iranian tanker off Gibraltar was illegal. There is no doubt of that whatsoever. The Iranian response to the seizure of its tanker in the Strait of Gibraltar, by the seizure of a British Tanker in the Strait of Hormuz, was also illegal, though more understandable as a reaction. The implications for the global economy of the collapse of the crucial international law on passage through straits would be devastating.
It may seem improbable that the UK and or France would ever seek to close the Dover Strait, but in the current crazed climate it is no longer quite impossible to imagine the UK seeking to mess up access to Rotterdam and Hamburg. It is still easier to imagine them seeking to close the Dover Strait against the Russian Navy. Yet the essential freedom of navigation through the Kerch strait, respected by Russia which controls it, is necessary to the survival of Ukraine as a country. For Turkey to close the Bosphorus would be catastrophic and is a historically recurring possibility. Malaysia and Indonesia would cause severe dislocation to Australia and China by disrupting the strait of Malacca and the Suharto government certainly viewed that as an advantage from which it should have the right to seek to benefit, and was a continued nuisance in UN Law of the Sea discussions. These are just a few examples. The US Navy frequently sails through the Taiwan Strait to assert the right of passage though straits.
Keeping the Strait of Hormuz open is perhaps the most crucial of all to the world economy, but I hope that the above examples are sufficient to convince you that the right of passage through straits, irrespective of territorial waters, is an absolutely essential pillar of international maritime law and international order. The Strait of Gibraltar is vital and Britain has absolutely no right to close it to Iran or Syria. If the obligation on coastal states to keep maritime straits open were lost, it would lead to economic dislocation and even armed conflict worldwide.
Part III of the UN Convention on the Law of the Sea relates entirely to passage through straits.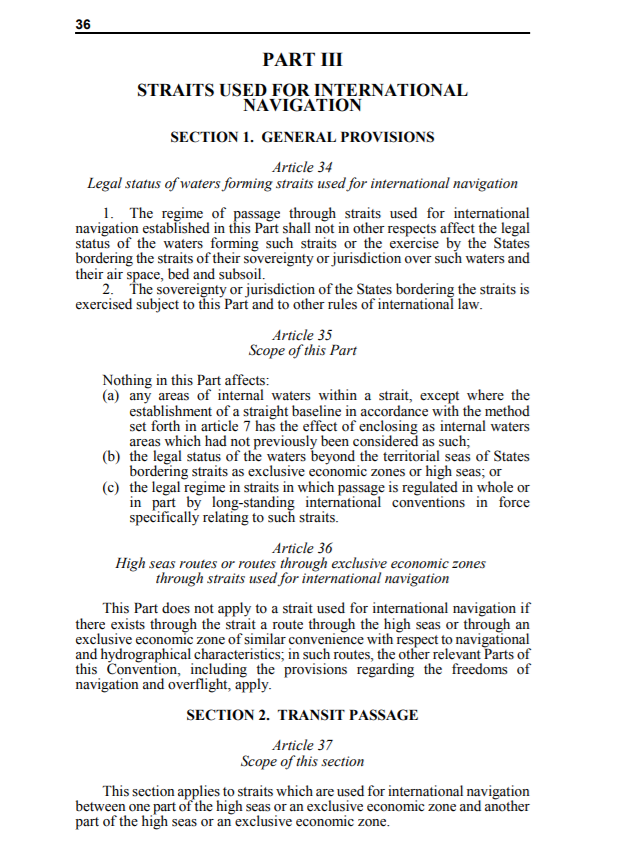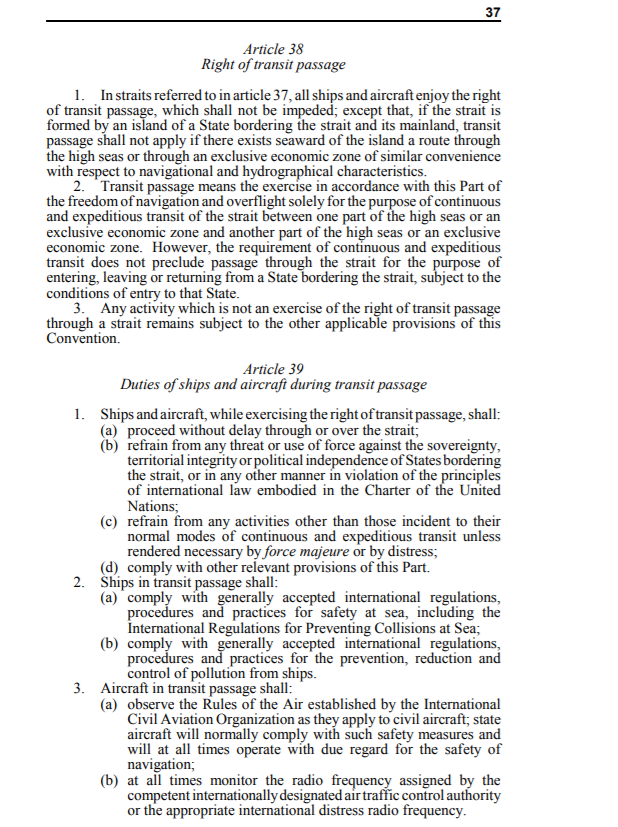 Are You Tired Of The Lies And Non-Stop Propaganda?