Dear Department of Justice: Please Investigate Your Old Boss for Material Support of Terrorism!

By Coleen Rowley
Former FBI Special Agent

March 20, 2012 "Information Clearing House" --- -- Dear Department of Justice and Department of Treasury Officials:

We might have just helped you bag another material supporter of terrorism this week! And you'll never believe who the culprit is! We were even able to tape record some of his own damning admissions! (That's the reason for my calls last week to your duty attorneys and media offices.)

As you know, Treasury's Office of Foreign Assets Control has an ongoing investigation into several high profile former political figures, trying to discover their financial transactions with the terrorists in the Mujaheddin e Khalq aka "MEK". One of the former political officials apparently being investigated for his financial transactions and paid advocacy on behalf of MEK is former Attorney General Michael Mukasey. Well Mukasey happened to get tapped on March 15 to give an "ethical leadership" speech at the University of St. Thomas Law School and some of us went to hear what he had to say. As an aside, the overall thrust of his speech was anything but ethical. Instead he mostly defended the Bush Administration and its lawyers for having used their talents "to push the legal limits" of what the Executive Branch could do in its "war on terror." (Of course there are many legal scholars who think those Bush attorneys pushed over the legal limits.) He especially defended John Yoo and Robert Delahunty (now a St. Thomas law professor) who working in Bush's Office of Legal Counsel, co-wrote memos in early 2002 claiming the U.S. did not have to follow the Geneva Conventions. Researchers have since gained evidence through multiple interviews of returned soldiers that the major factor in U.S. troops' having committed atrocities and abuses in Iraq and Afghanistan as well as terrible torture of detainees was their being told they no longer had to follow the Geneva Conventions. But Mukasey didn't seem to care much about any abuses or torture. In fact, although he refused to answer during his Senate Confirmation hearing whether waterboarding was torture, he explicitly declared that waterboarding is not torture and therefore was/is not illegal as practiced by CIA contractors.

Of course we are well aware of Obama's instructions for you to never look backward when it comes to the torture crimes but here's the part that could allow you to put the handcuffs on your old boss for his new and apparently ongoing terrorist crimes! After Mr. Mukasey completed his initial speech, he was confronted in a rather light but savvy way by another panelist, Attorney John Lundquist, about his (Mukasey's) paid advocacy for the Iranian terrorist group, Mujaheddin e Khalq (MEK) which the U.S. State and Treasury Departments have long designated as a Foreign Terrorist Organization (FTO). Mukasey admitted> being paid by MEK and admitted he and his friends are in a group helping the terrorist group by advocating for their removal from the FTO list. Mukasey later inexplicably added that he still supports the 2009 Holder v Humanitarian Law Project Supreme Court Decision (which held that such advice and assistance as he's admittedly providing in coordination with a designated foreign terrorist organization falls within "material support of terrorism" even if it's nothing but speech). Since ignorance of the law is no defense, Mukasey's proffered explanation that MEK did not tell him what to say, just inculpates him further, doesn't it?! He insisted that as long as MEK did not write his speech, his acceptance of the terrorist organization's money and his meetings with MEK members to coordinate his appearances and advocacy are not enough to get him into trouble.

To be sure, Mukasey also made a comment, kind of going on the offense in which he accused the Treasury of improperly targeting him and his political friends by looking into the handsome amounts of money they have all been paid by MEK. He claimed that the Treasury's subpoenas looking into his and other high level former politicians' payments from MEK stemmed from the filing of their amicus brief arguing for MEK to be removed from the terrorist organization list. A panelist then questioned Mukasey's use of the Judiciary as somewhat hypocritical to second guess the Executive's terrorist group designations since, throughout his speech, Mukasey had constantly denigrated the role of the judiciary in handling terrorism matters, repeatedly opining that the Judiciary is not equipped to have a role in what the Executive does to combat terrorism.

Hypocrisy aside, the real smoking gun here is that Mukasey admits he was paid handsomely by the MEK to advocate for them. (I'm sorry to say we failed to ask him to provide the actual dollar figure, but... ) He didn't deny that his "expert advice and assistance" to MEK was coordinated, only that the designated terrorist group did not dictate what he said.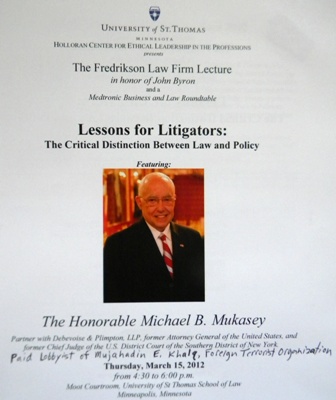 What's worse is that Mukasey and his MEK-paid friends scoff at the laws and government terrorist designations they insist on applying to others. As Attorney General, Mukasey undoubtedly ordered prosecutions of many Muslims for financial transactions with FTOs involving far less money than he's been paid. In their January 2011 opinion piece "MEK Is Not a Terrorist Group," Mukasey's group discloses the perhaps bigger reason for their support of MEK than the thousands of dollars they were each paid, claiming that MEK "has provided valuable intelligence to the United States on Iranian nuclear plans." Could that be their real motive? Could there be more money for Mukasey's group in starting a new war whether based on a terrorist group's lies or not? This situation should bring back memories of old scoundrel con-artist Ahmed Chalabi's dissident group who, despite not being trusted by most CIA analysts, served the purpose nicely in conjuring up false evidence of Saddam's WMD for Bush's neo-con team to take us to war on Iraq. Could it be that Mukasey and friends want to polish up the MEK to gin up false intelligence for a new war on Iran similar to how James Woolsey, Richard Perle and others polished up and promoted Ahmed Chalabi's disinfo group? Is it not true that credible news reports link the terrorist group MEK to the recent assassinations of Iranian scientists? Are MEK terrorists so reckless they are mistakenly even assassinating innocent Iranian electrical engineers? So not only does the MEK have a long past history of attacking civilians (and also killing U.S. troops) but they are currently assassinating scientists and students? And providing false "intelligence" to gin up a new war on Iran which, like Iraq, does not possess a nuclear bomb? So Mukasey and his political friends are working to welcome a terrorist organization into the fold to gin up war on Iran just as Chalabi's group helped gin up war on Iraq?

Well I can't answer all these questions from only hearing one Mukasey speech but it seems to me there is plenty of probable cause for you to investigate. I will keep the tape recording of the culprit's damning admissions in a secure place and try to maintain a good chain of evidence if you ever need it. I recognize this situation undoubtedly puts current government authorities like yourselves in the extremely awkward position of looking into your former bosses, not only former AG Mukasey, but also former FBI Director Louie Freeh, former NYC Mayor Rudy Guiliani, Former Homeland Security Director Tom Ridge, former White House Counter Terrorism Advisor Fran Townsend, former UN Ambassador John Bolton, former Democratic Party Chair Howard Dean, etc. It's obviously quite the example of where the Patriot Act's broadening of the "material support" definition along with the Holder v Humanitarian Law Project's broad interpretation can lead. (I'm on record, by the way, that the Holder v. Humanitarian Law Project decision is wrong for just these reasons, that it impinges on freedom of speech, but as you well know and as good ole' Janet Reno used to always say, "the law is the law!") And don't forget, in years gone by, when the law was applied fairly, it was applied equally to even corrupt presidents like Nixon, and to some of their politically appointed Attorney Generals if/when there was probable cause to believe they were involved in corrupt, unlawful actions.

Anyway, you know what Homeland Security's public service message tells us, "If you see something, say something!"

This article was first published at the Huffington Post

Scroll down to add your comments - Please read our Comment Policy before posting -
| | | | |
| --- | --- | --- | --- |
| | Support Information Clearing House | Search Information Clearing House | |