In US Propaganda Exercise

Obama Apologizes, For Murdering Innocent Hostages In Pakistan
By Paige Lavender
April 23, 2015 "Information Clearing House" - "HP" - President Barack Obama gave a statement Thursday after the White House announced U.S. drone strikes had killed innocent American and Italian hostages in Pakistan, saying he takes full responsibility for the operation.
"I profoundly regret what happened," Obama said, apologizing to the families of the deceased.
A statement from the White House identified the hostages as Dr. Warren Weinstein, an American held by al Qaeda since 2011, and Giovanni Lo Porto, an Italian national who had been an al Qaeda hostage since 2012. According to the White House, the operation in which the two were killed targeted an al Qaeda-associated compound, "where we had no reason to believe either hostage was present, located in the border region of Afghanistan and Pakistan."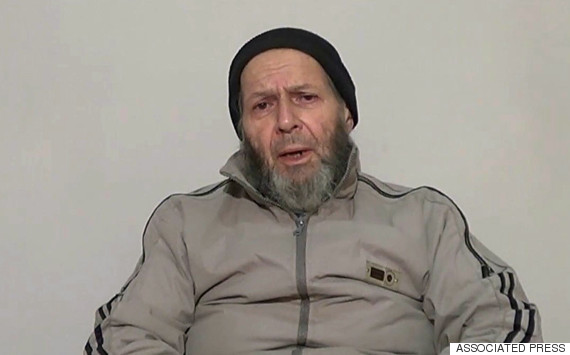 This image made from video released anonymously to reporters in Pakistan, including the Associated Press on Thursday, Dec. 26, 2013, which is consistent with other AP reporting, shows Warren Weinstein, a 72-year-old American development worker who was kidnapped in Pakistan by al-Qaida more than two years ago, appealing to President Obama to negotiate his release.
Obama noted he had spoken with both Italian Prime Minister Matteo Renzi and the wife of Weinstein about the deaths.
"As a husband and as a father, I cannot begin to imagine the anguish that the Weinstein and Lo Porto families are feeling today," Obama said.
"I know there's nothing I can ever say or do to ease their heartache," he added.
Two other Americans who were working with al Qaeda were also recently killed in the same region, according to the White House. Ahmed Farouq, an American who was an al Qaeda leader, was killed in the same operation that took the lives of Weinstein and Lo Porto, while American Adam Gadahn, a member of al Qaeda, was killed in a separate operation in January. The White House said the two were not specifically targeted and counterterrorism officials "did not have information indicating their presence at the sites of these operations."
The Wall Street Journal reports this is the first known instance in which the U.S. has accidentally killed hostages in a drone strike.
"No words can fully express our regret over this terrible tragedy," White House Press Secretary Josh Earnest said in a statement.
Obama defended U.S. counterterrorism operations in his remarks Thursday, saying the strikes occurred after "hundreds of hours of surveillance" had been conducted. He noted "it is a cruel and bitter truth that in the fog of war generally, and in our fight against terrorists specifically, mistakes...can occur."
After Obama gave his remarks, Weinstein's wife released a statement on behalf of the family condemning the "cowardly actions of those who took Warren captive" and expressing disappointment in the U.S. government.
"I want to thank Congressman John Delaney, Senator Barbara Mikulski, and Senator Ben Cardin – as well as specific officials from the Federal Bureau of Investigation – for their relentless efforts to free my husband." Elaine Weinstein said. "Unfortunately, the assistance we received from other elements of the U.S. Government was inconsistent and disappointing over the course of three and a half years. We hope that my husband's death and the others who have faced similar tragedies in recent months will finally prompt the U.S. Government to take its responsibilities seriously and establish a coordinated and consistent approach to supporting hostages and their families."
ACLU Comment on Drone Strikes Killing Hostages
NEW YORK - President Obama announced today that a U.S. drone strike in Pakistan killed two al Qaeda hostages, an American and an Italian. The White House also said it believed that two other Americans were killed in other U.S. operations in the area.
Jameel Jaffer, American Civil Liberties Union deputy legal director, had this reaction:
"These new disclosures raise troubling questions about the reliability of the intelligence that the government is using to justify drone strikes. In each of the operations acknowledged today, the U.S. quite literally didn't know who it was killing. These and other recent strikes in which civilians were killed make clear that there is a significant gap between the relatively stringent standards the government says it's using and the standards that are actually being used. It would of course be easier to assess this gap if the government routinely released information about individual drone strikes. Unfortunately, the president's stated commitment to transparency can't be squared with the secrecy that still shrouds virtually every aspect of the government's drone program."
The ACLU is currently fighting three Freedom of Information Act lawsuits demanding information on the government's targeted killing program. The newest, filed last month, seeks the Presidential Policy Guidance that likely controls the program, as well as details on who the government has killed and why.
https://www.aclu.org/news/aclu-comment-drone-strikes-killing-hostages/